1. Setting up encoder
Encoder settings
| | |
| --- | --- |
| Codec | H264/x264 |
| Resolution | 1920x1080 |
| Profile | High or Main |
| Bitrate | 5-6 Mbits |
| Bitrate mode | Constant bitrate (CBR) |
| Frame rate | 25 fps |
| Keyframe interval | 2 seconds or 50 frames depending on if this parameter is defined by seconds or frames in your encoder |
| Audio | AAC |
Server address and stream key (stream name)
Login to Qbrick Video Platform (QVP)
Click on your company name i top right corner
Click on settings
Click on channel settings
Copy server address and stream key / stream name to your encoder
2. Create live event
Go to Media Library in QVP
Click on "New" in top right corner
Click on "Create live event"

Enter a title, choose channel and click "Create live event"

3. Prepare live event in Live Manager
Click on your live event in media library then click on Live Manager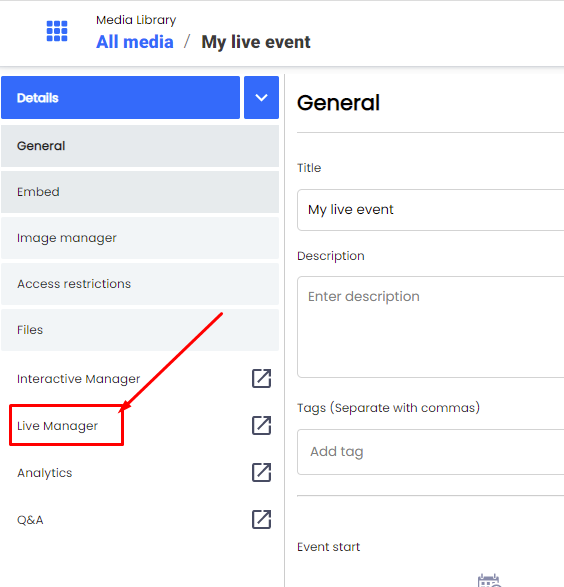 Upload a thumbnail by clicking choose file under thumbnail. We also recommend that you upload pre-cover and post-cover, however it is not necessary the Qbrick Player will default to black standard covers.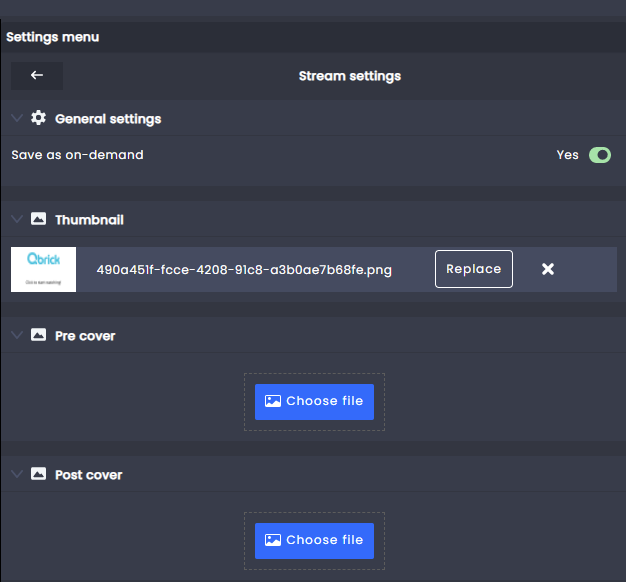 Start you encoder - as soon as the signal has been processed by our servers a preview will be seen in Live Manager.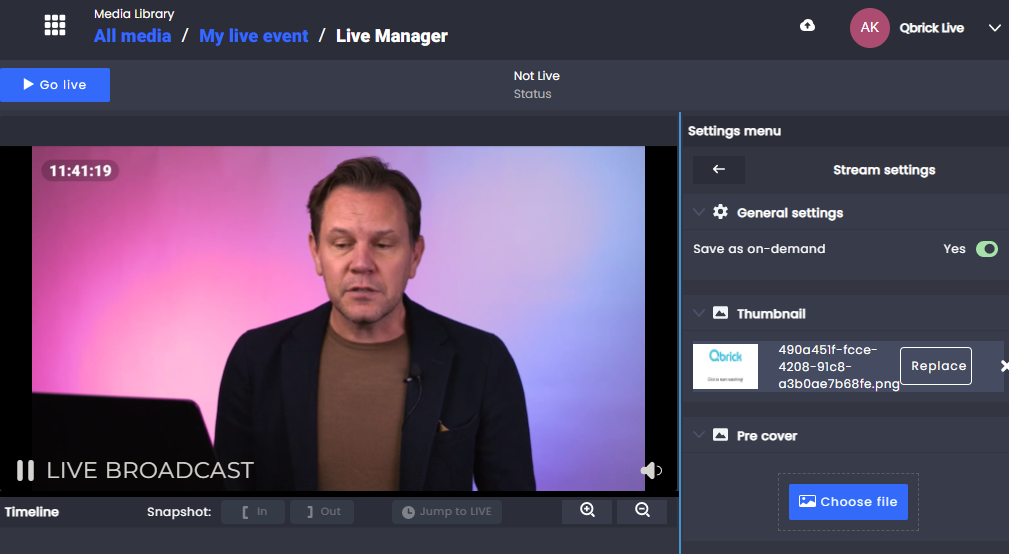 4. Start live event
When you are ready to start your live event, click the "Go live" button. When pressed, the pre-cover will be removed in the player for the viewers and live stream starts automatically.
5. Live timeline and creating snapshots
During the live a timeline will build up in Live Manager. You as a video producer can at any point during the live click on the timeline and re-watch previous live video. This will not affect the live stream for the viewer.
Create snapshot
From the timeline you can take a snapshot and create a separate on-demand video file instantly for publishing. For example of a specific speaker during a conference.
Click on the timeline where you would like the snapshot to start
Click "In" to create an in-point

Click further away in the timeline where you want the snapshot to end
Click "Out" to create the out-point

You can fine-tune the snaphot by moving it in the timeline or drag in the edges to make it shorter/longer

Set a title for you snapshot and click "Convert to media"

The snapshot is now available in the video library as a separate on-demand video ready for publishing! You can click "Jump to LIVE" to refresh timeline and go back to live view
You can create as many snapshots as you'd like during the live event. Example:


6. Stop live and create a recording
Recording
When the live event is ending you have two options of how to create a recording.
Option 1 - Save the full stream
Let "Save as on-demand" be checked - this will create a recording of the entire live event from the point when you as a video producer clicked "Go live"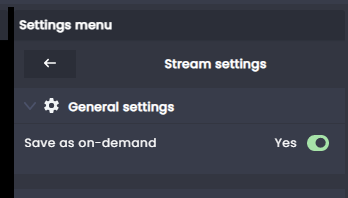 Option 2 - Trim (MOST POPULAR OPTION AMONG OUR CUSTOMERS)
If you want to trim the recording you should disable "Save as on-demand" and instead create a snapshot where you simply trim the beginning and the end of the live stream.
Disable "save as on-demand"

Create a snapshot that covers the entire timeline then adjust beginning/end
Set title
Convert to media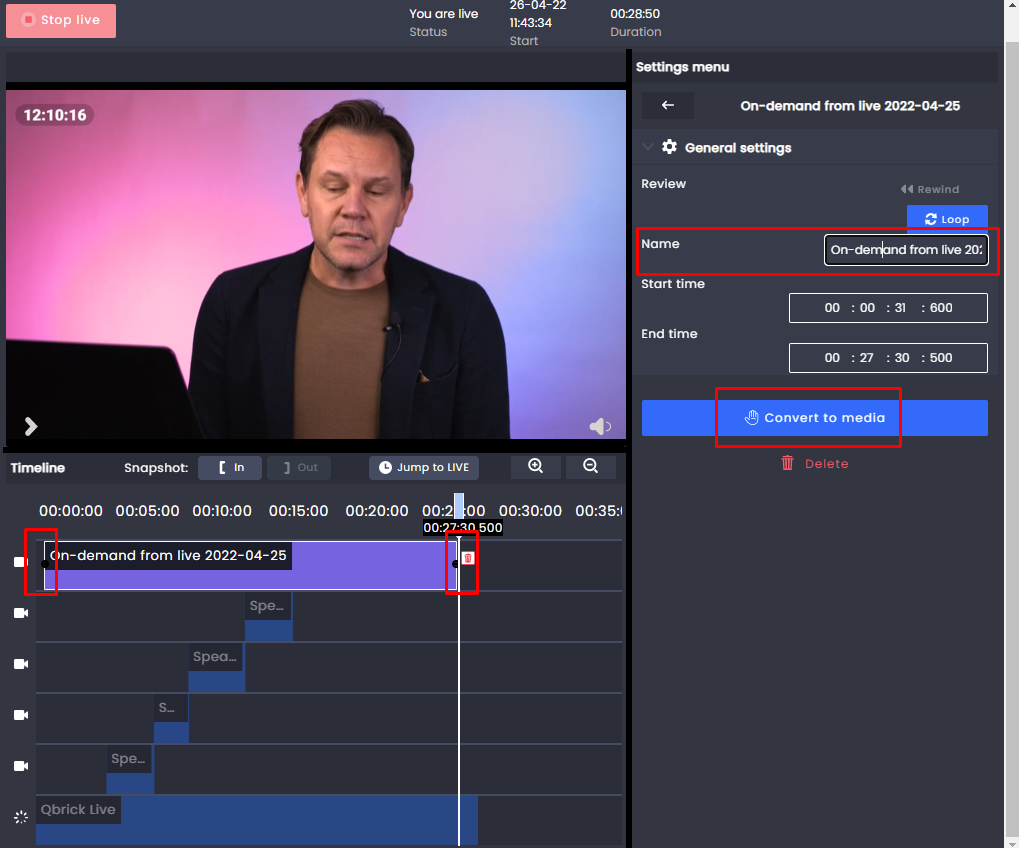 Stop live
Now we are ready to stop the live event!
Click "Stop live"
Here you get options depending on if you have checked "Save as on-demand" or created snapshots.
If you have created a trimmed recording then choose that specific snapshot, otherwise choose "Full stream". We choose the trimmed in this case.

The live is now stopped and your live event is automatically replaced with the recording you choose!
Stop encoder