Overview
Qbrick Player Editor is a tool that allows users to create and customize their video players with ease.
This editor is designed for businesses and content creators who want to enhance their video content and improve user engagement. With Qbrick Player Editor, users can manage elements of their video players such as visual elements, chat availability, video controls and much more, tailoring the experience for every need.
Below is a list of all current available settings and what they do, also a player with all settings enabled/modified for reference.


---
Settings
If you have access to this feature you can access your player configuration presets under "Account > Settings > Player Configurations"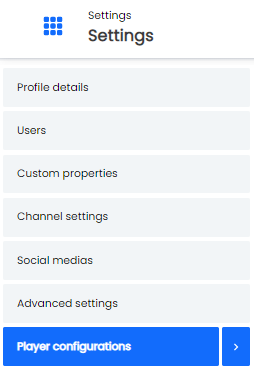 The Player Editor comes with three easy to use baseline presets that are ready for use. But if you want to edit them further or create your own presets you can do so as you please.

The customer player can then be used, modified or switched out at any time with an already existing embedding method, making it possible to retroactively change it after the situation.



The "Desktop" and "Mobile" options allows your to make changes independently to how your content is experienced based on if a user is viewing on desktop or from a mobile device.
Playback Options
Softbox Fullscreen - Allows the player to be opened in a "fake" fullscreen mode for easier
Maintain video proportions - Wether or not If the video is embedded in an unconvensional area where the media player may be squished, to preserve the proportions of the media content.
Autostart - Automatically start the video when the player is loaded.
Replay / Loop - Replay the video from the beginning when it reach the end.
Mute at start
Top Controls
Enable or disable the entire top control section.
Show Title - Title / Media name will be displayed in the upper left corner in the player whenever a user interacts with it.
Show Account Name - Account Name will be displayed in the upper left corner in the player whenever a user interacts with it.
Social Sharing - Allows the user to quickly share the media on different social media platforms.
Download Button - Download button that allows the user to download the current video locally.
Always Visible - If the Top controls should disappear after player has not been interacted with for a while.
Playback Options
Enable or disable the entirety of the options menu.

Playback - Display or hide the player playback controls (play buttons, timeline, timejump, audio controls.

Play / Pause Button - Display of the play / pause button.
Timeline - Display of the player scrub bar.
Rewind / Forward - Allows the user to rewind/jump forward 15 sec in the video.
Audio Controls - Allows to adjust the volume of the content via a volume slider.

Language Settings

Subtitles - Displaying the option for the user to be able to switch between available alternative subtitles.
Audio Tracks - Displaying the option for the user to be able to switch between available alternative audio tracks.

Settings

Video Quality - Access to manually select the video quality, note that even if this setting is disabled the "auto" profile will be defaulted and adjust the quality based on network connectivity.
Fullscreen - Wether or not the player can be opened in full screen.
Engagement Features
Enable or disable the entirety of the engagement features.
Shopping Cart - Allows adding products through interactive elements to add products to a cart and redirect the user with the items to an external checkout store. (Requries API integration to set up)
Chat - Enables the chat features where users can send messages that can be displayed in a retractable/extendable window (fading scrolling text on mobile).
Live Likes - Be able to send emojis that will display live for other viewers, in kin to instagram live, or facebook, also works on non-live content.
Accessability Settings
Language (Player Controls) - Selected language will display as translated tooltips for player controls.
Player Styling
Hover / Active color - Player controls colors when hovering over them.
Font (Player controls) - Player controls text font.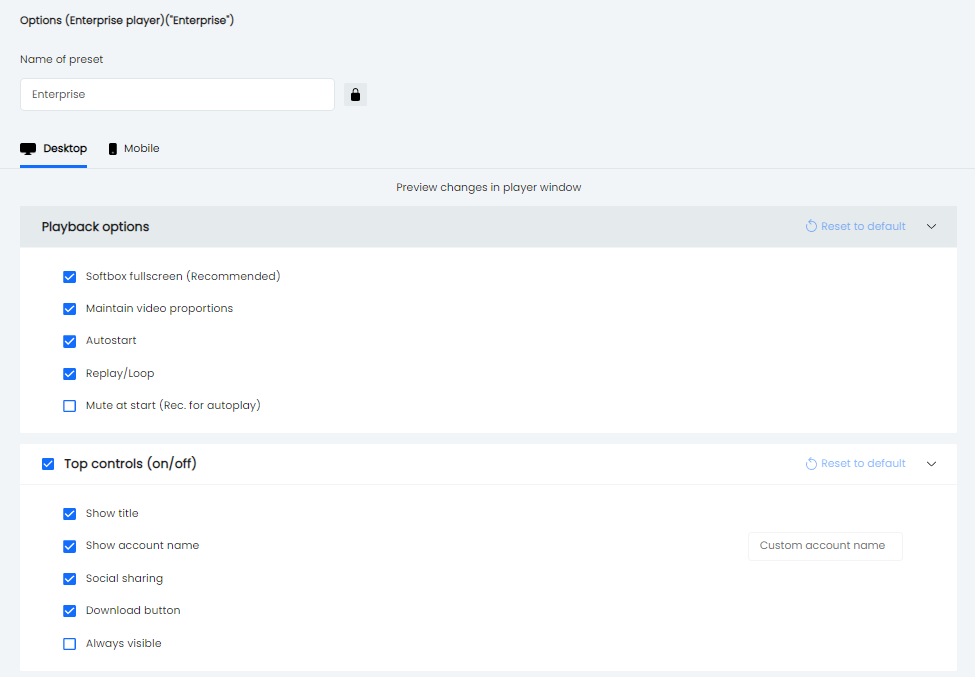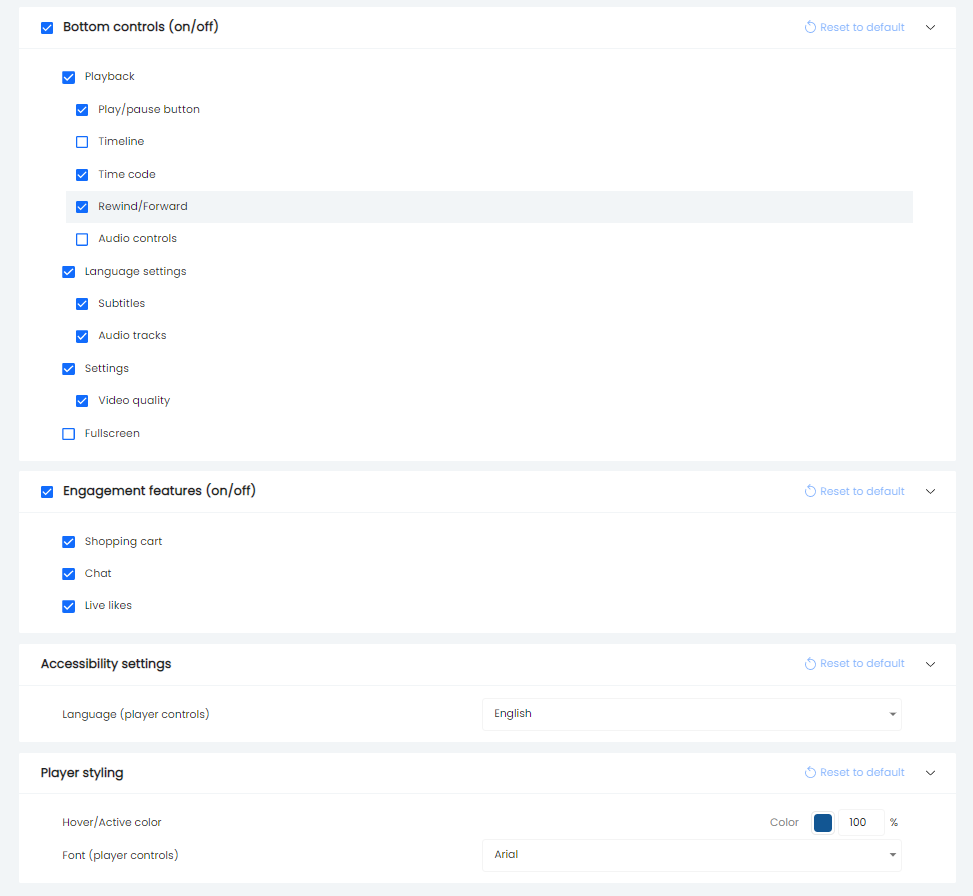 ---

Reference Player